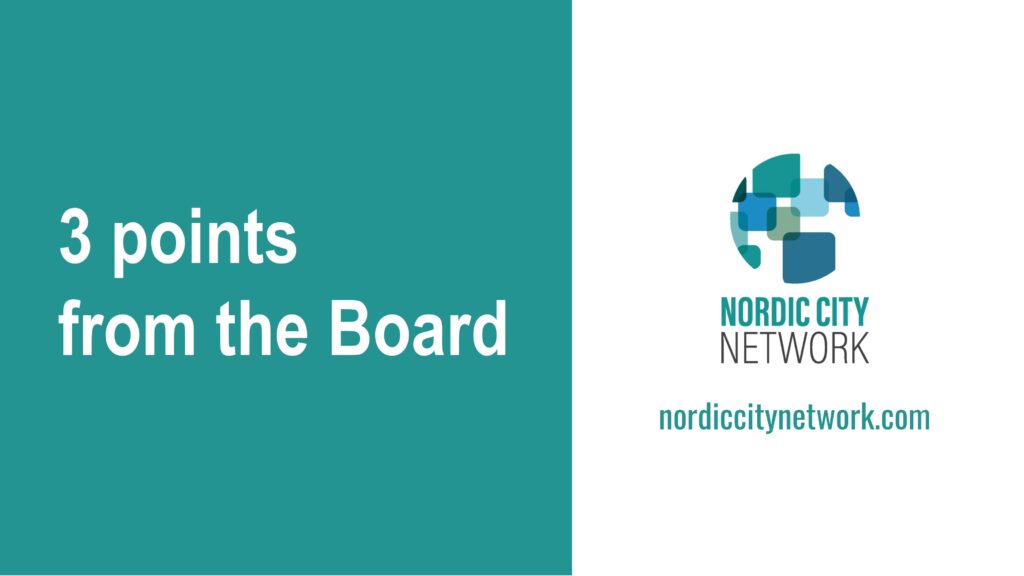 Nordic City Network's new board!
On May 13, Nordic City Network's new board had its first and constituent meeting.
The Board for the financial year 2022/2023 consists of:
– Carl Arnö, Västerås – chairman
– Anne Reinton, Trondheim – vice chairman
– Erik Jespersen, Esbjerg – treasurer
– Marcus Horning, Malmö – secretary
– Malin Lagervall, Umeå – member and responsible for membership recruitment
– Maria Asp Wedelboe, Hörsholm – member
– Mats Stjernberg, Nordregio – co-opted
Three points from the board meeting:
New resource in the member recruitment group
Maria will participate in the work of the membership recruitment group. The hope is that Maria and Erik can contribute with new contacts to Danish member cities. The next step in member recruitment is to invite potential member cities to Lab Västerås September 27-29th on the theme of inner city development. Do you have someone you want to invite? Contact Hannah.Wadman@afry.com
Cooperation with Nordregio
The Board continued the discussion the network conducted during Lab Nordregio in March on forms for the continued work between NCN and Nordregio. The secretariat has summarized the discussion from the lab in one powerpoint presentation, see below. The board sees it is important that the member villages actively participate in the discussion about which issues and themes should be explored in the future.
Continued contact with the National Board of Housing, Building and Planning
Ulrika Åkerlund, National Board of Housing, Building and Planning (Boverket), who previously participated in the Nordic Council of Ministers' working group for sustainable cities, will no longer participate in the Board's work, but we will continue to have ongoing communication and exchange with Boverket.