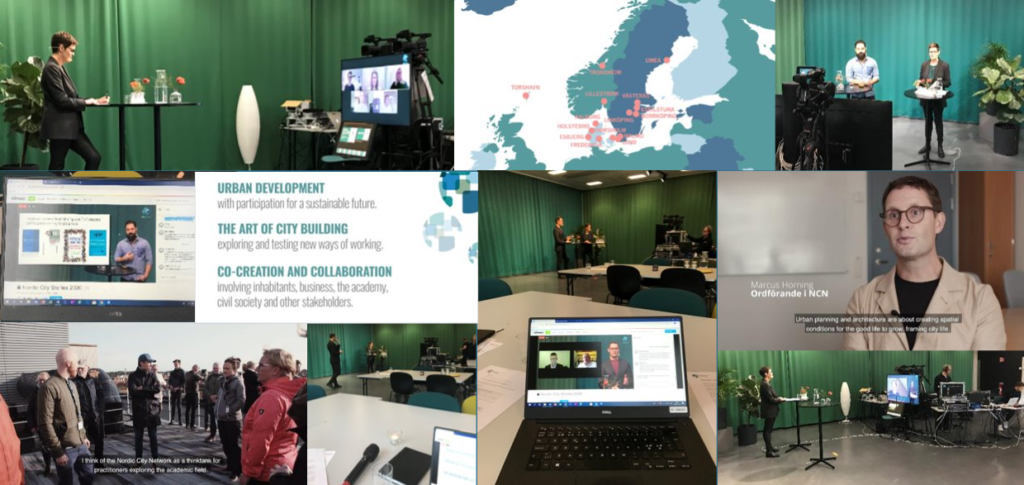 Report from Nordic City Stories-conference
Urban communities around the world are facing great challenges in form of climate change, lack of trust in democratic institutions, increasing inequality and health differences. Many actors need to cooperate to adress these complex issues. And to succeed, we need to work together – not just to formulate solutions – but also defining the problems. ​
For 3 years, the member cities of Nordic City Network have focused on seeing, understanding and changing their communities to make them more inclusive, resilient and innovative. Through theses, tests and evaluation, the cities have produced new ideas and methods for urban development. ​
In practice, it is about co-creation, that committed citizens, idea-driven sector, business, municipality and politics come together to formulate challenges and solutions for the Nordic cities of the future. The processes have been documented and become a story about each city. Together, the stories of the 15 member cities become a larger narrative about the Nordic region: Nordic City Stories. Thefutures the Nordic cities are looking at, and how to get there. ​
The Vision of the Nordic Council of Ministers is that the Nordic region will become the most sustainable and integrated region in the world by 2030. Based on our local contexts, we can contribute with solutions to global challenges. With the Nordic City Stories conference, we want to share experience and knowledge from our Nordic Region and contribute to the vision by working together on solutions for the future. November 24th researchers, NGOs, activists and practitioners, came together to explore how we get people to discover and understand their city in order to ultimately recreate it. A sustainable city for and by the people who live there. ​

Thank you for participating!​

The Nordic City Stories
The conference Nordic City Stories took place in November 2020 and you can see the networks joined film and the local stories from each of the member cities of the Nordic City Network below. Also avalible is the recording of the conferance and presentations from key note speakers and a conslusion.
Local Stories
Follow the links below to reach each member city's local story.
Aalborg: Budolfi Plads (eng)​
Esbjerg: Metropolitan qualities (eng)​
Eskilstuna: Stadens DNA  (sv)​
Fredericia: Byens pladser og förbindelserne mellem dem (dk)​
Hörsholm: Sustainable urban development (eng)​
Lund: Kunskapsstråket (sv)​
Malmö: Samskapande stadsutveckling (sv)​
Norrköping: Samskapande stadsutveckling (sv)​
Tórshavn: Karlamagnusarbreyt in Torshavn (eng)​
Trondheim: Böker och Bylab (no)​
Trondheim: Paviljong til alle på Elgeseter park! (no)​
Umeå: stadsdelsdialogen och social hållbarhet (sv)​
Västerås: The vision for Finnslätten (eng)​
Material from the conference
Watch the conference again or read the key note speakers presentations.
Resumé Nordic City Stories (PDF)
Louise Vogel Kielgast – Nordic City Stories (PDF)
Nazem Tahvilzadeh – A planners (re)public(PDF)
Zakia Elvang – Deliberative Democracy (PDF)
Emma Terämä – National Urban Strategy(PDF)
Marie Karlberg (PDF)